Smart E-Commerce
Diamondback is one of the most well-known brands across the globe. Diamondback designs bikes for kids, weekend warriors, endurance athletes, downhill and uphill. With such a vast selection, making sure the consumer has help finding the bike which best fits their needs is critical.
G Conspiracy built an e-commerce platform which adapted to Diamondback's inventory, selling season and marketing goals.
Context-Aware Content for Maximum Conversion
Seeing a need to tie purchasing, product, marketing, and graphic teams together so they could work efficiently along with the need for data syndicated to vendor platforms and the press, G Conspiracy implemented a PIM solution. This solution efficiently tied teams and platforms together so when products were launched or content was changed it only had to be updated once.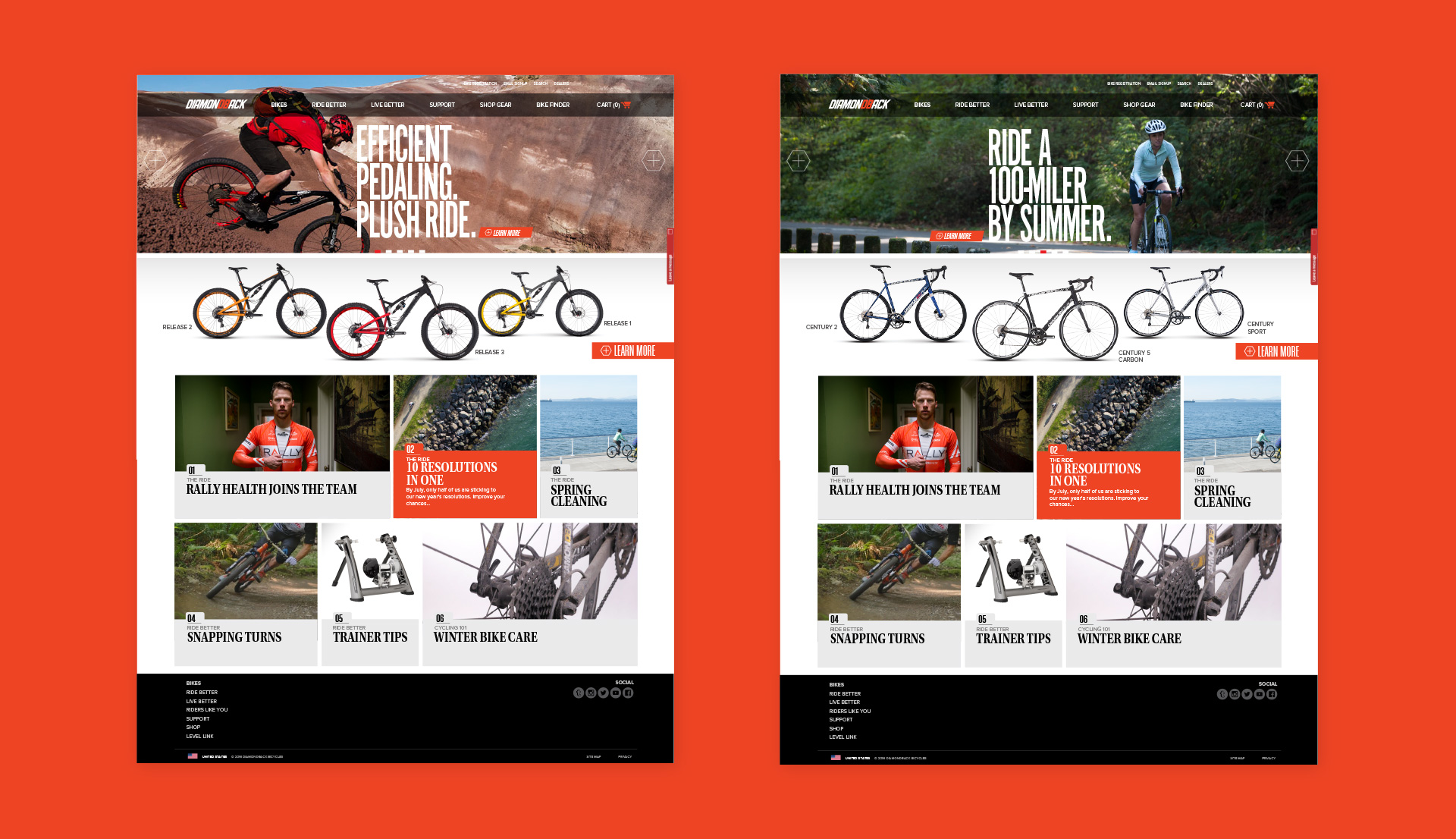 Project Highlights
Audiences
User Experience (UX)
Graphic Design / Website Design
GPIM: Product Information Management (PIM)
G Conspiracy developed an application its clients can utilize allowing teams of product managers and marketers to manage their data outside of the site with automatic synchronization.
Context-Aware Content for Maximum Conversion
PIM manages:
SEO copy
Imagery
Marketing copy
Thousands of data points
Allows client team to deploy and manage products across multiple partner channels and their own web properties
GPIM allows thousands of pieces of product data imagery and video content to be managed by the internal team. Allowing them to update any time
Their site automatically updates with the latest products and content
Web Development
Hosting management and configuration
 Magento/WordPress

Utilizing integrations to combine commerce and editorial content onto one platform

Magento eCommerce

Pricing catalog for Corporate and Public Audiences

Real-Time retailer inventory integration for consumer in-store pick-up
CRM integration

Email list handling
Email triggered sends
Email drip campaigns

ERP integration and synchronization

Inventory
Multiple Pricing Catalogs
Order management

PIM integration

Magento / PIM integration for automatic data synchronization and Magento product management
ERP integration

In order to show the most up to date pricing and inventory the Diamondback e-commerce site integrated with Diamondback's inventory management system

Marketing content management

Diamondback's marketing team could create landing pages and articles along with keeping the products up to date without having to know any code. They could schedule out their updates in advance.

Ascent CRM integration
Continuous Integration
As part of this project, we created landing pages to coincide with marketing campaigns.